If you want to excel in anything, you start by reading the best authority content before implementing the knowledge. Poker is not an exception – there is a lot to learn. This is a game that combines skill with strategy and, of course, little luck. Poker can take a lifetime to master. So you can speed up the process by reading the best poker books for beginners. Here you will find other poker tips for beginners.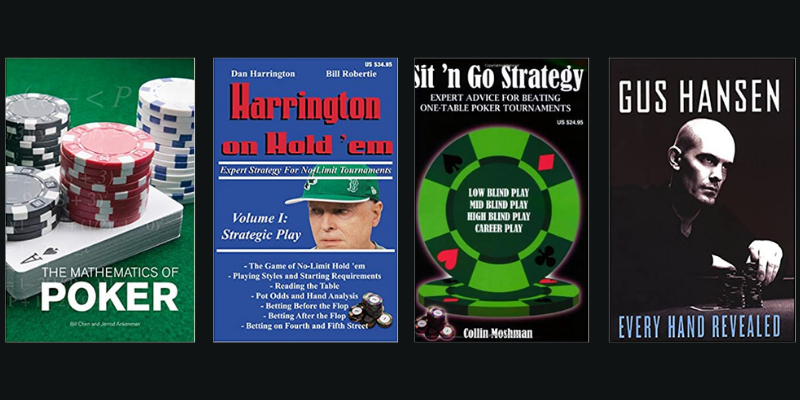 Whether you are looking to learn the tricks, want to improve techniques, or just want a poker-centered story, books on poker strategy have a lot to offer. Everything about poker, including poker strategies, poker psychology, the history of gambling, and how professionals play, are well covered.
For beginning poker players, there are endless learning opportunities that will make you better. With many books and resources, choosing the best can present a significant challenge. To help sharpen your game skills, here are the top best poker books for beginners.
If you also need poker chips , here is a guide on how to choose the best poker chips for home games.
Best poker books for beginners
The Theory of Poker
The Theory of Poker by David Sklansky is arguably the best and most famous book ever written on poker. Showcasing many concepts to all forms of poker is a must-read book for every novice.
You will find theories and specific tricks, including Poker fundamental theorems, poker psychology, the value of deception, raising, slow-playing, among others. Theory of Poker might your career turning point.
The Mathematics of Poker
If you diligently invest considerable efforts to follow Bill Chen and Jerrod Ankenman's arguments, you will never be disappointed. With nearly all pages having equations, graphs, and charts, The Mathematics of Poker is not an easy read at first. However, this shouldn't discourage you.
The authors provide digestible explanations that make seemingly intricate topics easy to understand. Even without a robust mathematical background, this book is incredibly beneficial.
Poker for Dummies
Although failing to understand fundamental poker concepts does not make you a dummy, Poker for Dummies is an excellent book for novices with next to no trick to hit the winning hand. Written by lawyer and poker player Richard Horroch and a veteran poker author, Lou Krigger, this book covers all poker fundamentals, including the rules and game etiquette.
Although the book doesn't cover much of the game theory used in today's poker tables, it is a great option to start with, especially if you're an infant in poker.
Best Texas Holdem books
Harrington on Hold'em
Harrington on Hold'em makes the best series of Texas hold 'em books. Volume 1: Strategic Play is one of the must-reads for every beginner. Comprising of three volumes, these books comprehensively teach beginners and vets alike how to start hands, about opponents, and position on the poker table.
Dan Harrington explains how to play various stages and adjust your game for each blind level. By showcasing strategies that made him one of the poker champions, the book must help you to become a successful tournament player.
Doyle Brunson's Super system
Famously known as the Bible of Poker, Doyle Brunson Super System explains the best ways and times to call, bet, and fold at Texas Holdem.
While many people consider the books outdated, the concepts introduced by Doyle Brunson in the 1970s remain viable in the competitive world of poker. This book has excellent tips on Texas hold 'em, Stud, and Omaha. Learn from pioneers and pros.
Strategies for Beating Small Stakes Poker Tournaments
This Texas hold 'em beginner book contains all poker basic building blocks. Strategies for Beating Small Stakes Poker Tournaments by Jonathan Little is one of the latest poker books for beginners who want to start with small stakes.
Teaching from experience, Jonathan Little offers digestible explanations that beginners and enthusiasts can use to exploit small stakes poker optimally. It showcases strategies and adjustments necessary to dominate and crush small stake poker games.
Best books on poker strategy
Elements of poker
In his book, Elements of Poker, Tommy Angelo strives to make you understand that poker is a game that you need to love and enjoy playing, as well as embracing anything it gives. Instead of teaching you how to play, Elements of Poker aims to elevate your experience and ultimately make you a better player.
According to Angelo, you need to immerse yourself in poker if you want to get the best out of it. Get to learn how you can handle steep challenges as well as approach games from wider angles.
Sit 'n Go strategy
Are you fond of playing sit-and-go games? Published in 2007, the Sit 'n Go Strategy by Collin Moshman is a great book on poker strategy that offers ideas and concepts you need to beat sit-and-go tournaments regardless of the stake.
This book offers insights into increasing your returns on interest while making you a better player, especially if you want to specialize in single-table poker tournaments. Although the book targets sit-and-go tournament players, it is also useful in multi-table tournaments.
Every hand revealed
One of the most unorthodox poker players, Gus Hensen, also known as 'Mad Man,' wrote this book. Every hand Revealed showcases Hansen's way of playing. In 2007, Gus Hansen won $1.2 million after outlasting 747 players, which inspired writing on this book. In this book on poker strategy, he reveals all the essential poker hands that led to his Aussie Millions win and explains his thinking behind each success.
During tournaments, Hansen would whisper into his voice recorder after every hand. Run to the nearest bookstore and grab your copy to hear what this award-winning poker player was saying.
Conclusion
Some of the greatest poker players and strategists have stored poker secrets and their thoughts between covers. If you are ready to take the challenge and start playing poker, grab any of these best poker books for beginners or even all to absorb very useful information that will help you master the poker game easily.
What is better than integrating knowledge into your game? Get insight from experts and start playing strongly.
Frequently asked questions
❓ Which poker books are the best?

The Theory of Poker;
The Mathematics of Poker;
Poker for Dummies.
❓ Which Texas Holdem books are the best?

Harrington on Hold'em;
Doyle Brunson's Super system;
Strategies for Beating Small Stakes Poker Tournaments.
❓ Which poker strategy books are the best?

Elements of poker;
Sit 'n Go strategy;
Every hand revealed.