Russian Poker is one of the most fun poker games you can play today. By mastering its main strategies, you can easily earn a fortune. Despite not being as popular as other poker games such as 3 card poker or Caribbean stud, the Russian poker game is available in many clubs, as live or online. Russian Poker can be a little challenging for newbies, but you'll realize how easy it is when you get the hang of it. In this article, you'll learn all Russian poker rules and top strategies to help you remain on top of this game.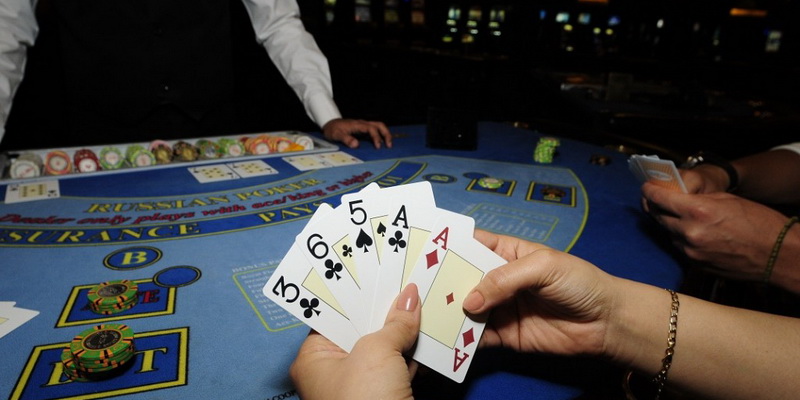 Introduction / How to play Russian Poker
Russian Poker, unlike other casino games, involves playing against the house. It's not known precisely when and where the Russian Poker was invented, but it was first seen in Russia in the1990's, soon after the dissolution of the Soviet Union.
At this time, there was an increased number of rich Russians and club owners who were looking for ways to keep them entertained and raise their VIP status. This game was thus introduced to encourage wealthy people to continue getting involved with casino games.
Generally, the player places an ante- given five cards and then decides whether to bet on their hand being better than the dealer's. Failure of the dealer qualifies with a hand of Ace-King or better, the bet is cancelled.
If the dealer qualifies, the game continues, and the player wins if their hand is better than the dealer's and they're paid according to the fixed payout scale. Contrary, the player loses their bet if their hand is weaker than the dealer's hand.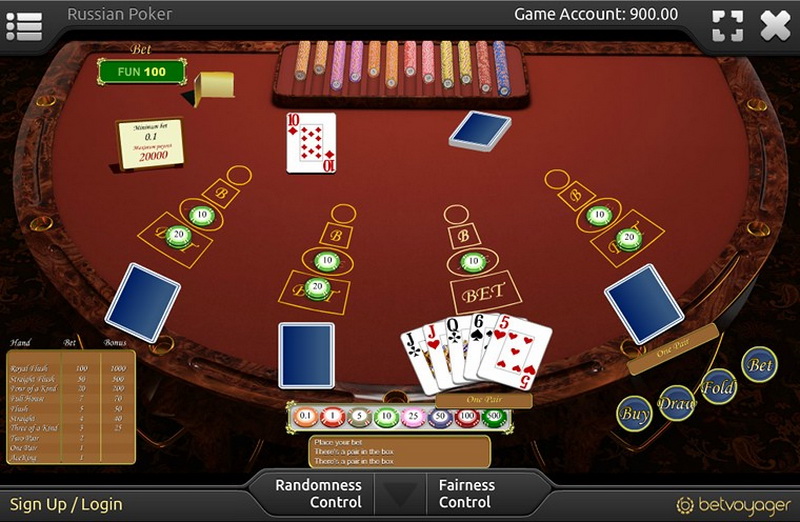 There's an additional feature in this game where the player is allowed to collect two poker combinations within a hand. In case of a win, they're paid for both combinations.
A player can also stake more money in exchange for extra cards or insurance against the dealer's qualifying.
Main features of Russian poker game
The minimum bet and the maximum payout is always stated for each table, and these figures are fixed. However, they're no maximum bet for Russian Poker. 
A single player can only play on a maximum of 4 boxes. However, if it's an open game, the players are allowed to play on a maximum of 2 boxes. 
The cost for purchase or replacement is one Ante.
As a player, you have the right to make repetitive changes if you've only made one card exchange.
As a player, you can buy the sixth card and still exchange it in the game. 
In an instance where the dealer is unable to qualify, then he can receive the Ante payout.
There's the payout for each combination if they're two separate ones in the player's hands.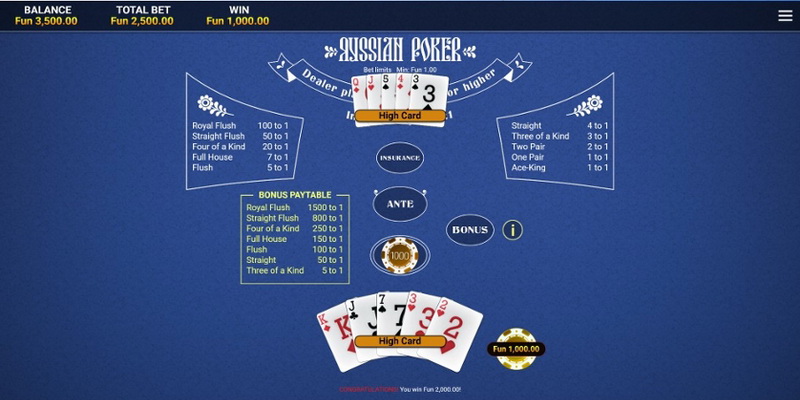 Basic Russian poker rules
If you want to learn how to play Russian poker game, then you must first understand these basic rules:
Card distribution and card changes options
The dealer and a player gets 5 cards, but one of the dealer's cards stays open. The player has various options with his cards. He can:
Make a bet with the cards
Exchange his cards
Buy the 6th card
Winning the Russian poker card game
After all possible card changes have been made, the player with the highest combination wins the game.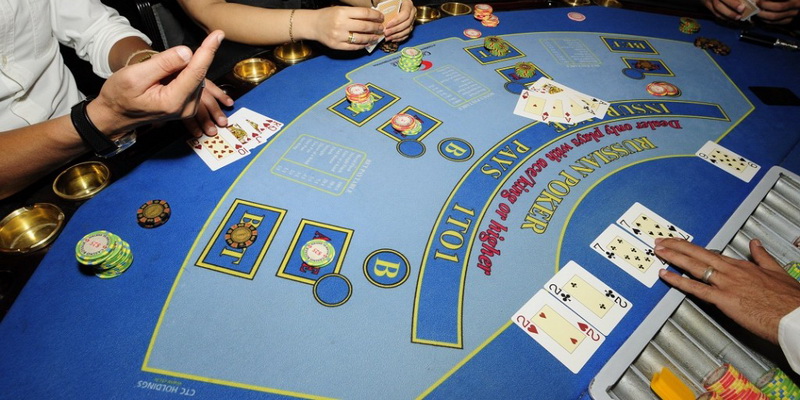 Cards and boxes needed
The Russian poker game uses a 52-card pack. Not all the boxes in the game need to be played. However, if a player plays for more than two boxes, then he must do the same for the third and the following boxes. When playing several boxes, the first or the second box is considered open while the rest are considered blind. 
Box figures and their corresponding bet types
There're 4 box figures for this casino game: circle, square, ellipse and rectangle. Bonus and Insurance bets are placed on the square, the Ante on the ellipse and the 6th card represented as a marker on the circle. 
Placing a bet
As the game begins, you'll have to choose a default chip with your desired face value. A player wants to change the chip's face value; he can do so by clicking the chip with a cursor.
In this video, you can see Russian poker rules.
The buttons
You can leverage the buttons to execute several commands in the game as follows:
Remove all the bets- Press the 'Clear' button
Repeat bets from the previous hand- Press the 'Rebet' button
Start the game after all bets have been made- Press the 'Clear' button
Buying the 6th card- What you need to know
Although you have the option of buying your 6th card as a player, you need to analyze your combinations and have a clear perspective of whether you really need to do it or not. Here's what you need to analyze:
Status of the starting combination- If your starting combination is weak, don't bother buying the 6th card- you'll just waste money as the card will not help you change the final outcome. 
Card combination in your starting hand- Only invest in the 6th card if you have a combination of 5 cards in your starting hand (flush, straight flush and royal flush). 
When you need to play a drawing hand- If you have an unfinished combination, flush or straight, and it's necessary to play a drawing hand, then a 6th card may come in handy. Note that this rule exempts an internal straight. 
Example of Russian poker
Card substitution or exchange
If you have a starting draw hand (flush draw/straight draw in addition to 4 more cards), then you have the option to exchange one card for completing the combinations. If you're going to exchange more than one card, keep in mind the cost factor but follow the following strategies:
For 2 cards exchange in the starting combination- Have straight flush with three cards
For 2 cards exchange not included in the combination- Have a set or trips
If you have no combination- Exchange 4 cards but ensure that your highest card in hand has more value (usually 8 or higher) than the dealer's. Also, ensure that the best option in the remaining ones is to fold the combination. 
If you don't have poker cards, you can buy them here.
Wrapping up 
Russian Poker is an exciting poker game that relies on standard hand ranking, making it easy to master. Most, if not all, Russian poker rules are pretty easy to learn, so a beginner should effortlessly grasp the game's strategies. Luckily for you, we've laid out the primary strategies for this card game clearly in this guide. Even with this, don't forget that you'll only be good at Russian poker game if you practice playing them severally.